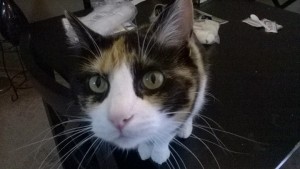 "Tara has always provided us with dependable, loving service!"   
We strive to provide the kind of service that leaves you thrilled, happy, overly satisfied and wow'd in every way. Read our current reviews from happy clients and please leave your comments, thoughts and review below!
On Mar 17, 2016 1:54 PM,
Tara,
Here is a short story on how we found your pet sitting service
We moved to Wichita about 1 1/2 years ago with 3 dogs, cupcake, lucy and ricky.  Right away I knew I would need to start looking
for a pet sitter.  I've used different types of pet sitters and boarding for my dogs, so this time I wanted to try and find a person that
would come to my home.  I wasn't looking forward to the task of searching because I thought it would take a long time to find the
right person and I didn't want my dogs going to a kennel.  Lucy and Ricky seem to be very scarred when I leave them in a strange
place like a vets office or boarding kennel.  So I decided to search the internet with the thought that there should be plenty of pet
sitters in the Wichita area.  The first name that came up was beloved pet nanny, so I decided to start with the first on the list.
And that is where my search ended.  I am a skeptical person, usually, so I didn't know if we would like this pet nanny.  But once
Lucy and Ricky met Tara and seeing they reacted to her I was thinking she is the right one to start with.  The rest is history, as
they say.  I feel totally comfortable leaving home when I know Tara is coming to take care of my babies.  I like that she is willing to
come over as many times as I need her to and also I like that she will take my dogs to her house to play with her dogs and get
them out of the house so they are not so lonely.  Tara is willing to work out any arrangements with the dog parents in order to make
the dogs more comfortable and less stress on the parents and dogs.  I hope I never have to find another pet nanny while living
in Wichita. There are many places my husband and I need to fly off to and its reassuring to know we can go without worrying about
our fur babies.
Thanks Tara,
Janice F.
Brett S 1-23-2016
Tara provides a variety of pet sitting services at reasonable prices.  She is willing to tailor services for your specific needs.  We had her come by once a day while we were on vacation to check on our animals, too off auto feeders, too off water, etc.  She also took pictures of our animals and sent them to us every day.  Great, reliable service.
Jennifer B 12-29-2015
New to Wichita, finding someone to entrust with watching our pets was a daunting task. We chose Tara based on yelp reviews and were not disappointed! She is professional, kind, an animal lover and extremely accommodating. We love the fact that our animals don't have to deal with the stress of boarding and have great peace of mind knowing they are well taken care of in our home.
Laura N. 11-24-2014
We hired Tara after having several bad experiences with other companies in the past. I was hesitant at first because of what has happened to our animals, but Tara did a wonderful job! She seemed to truly care about them and sent me many updates with pictures. 🙂 It helped put me at ease and I would definitely recommend her.
Kelly M 3-20-2015
My hubs and I went on vacation and we were gone about a week.  We decided to leave the Weimerinar at home, since boarding him would stress him greatly.  He is a good inside dog, but a bit … nervous around everything.  Tara scheduled a meet and greet and was patient as the dog ran around and my kids cried.  She has obviously done this before and goes over all the pertinent info, plus leave you with some paperwork so she doesn't forget anything.  I got text reminders from her that she would arrive in the morning, when she arrived and how Milo was doing plus usually a pic.  It was a huge huge huge relief to not worry about Milo and be able to enjoy our vacay.  She also brought in mail and tended to lights and such.  Milo had a full bowl of food and clean water when we got back, everything was in order (locked etc) and as expected. Her prices are VERY reasonable compared to boarding, and she offers military and returning customer discounts. (at the time of this review)   I will definitely use her again and I recommend her highly!